Summer vibes with the Harman Kardon Citation 200
Client
Harman Kardon

Our role
Concept
Art Direction
Motion Design
Deliverable
Product video
Date
October 2020
Harman Kardon recently added the Citation 200 to its lineup of speakers. The Citation series consists of premium products with sublime audio quality, sleek design, perfect sound and advanced technologies.
In addition, each speaker features Google Assistant. Whereas most Citation products are made for indoor use, Citation 200 is the first speaker in the series that can be used both indoors and outdoors.
Our challenge
This animation is part of a number of lifestyle product videos we have already made for this Citation series. 
To introduce and promote the product we were asked to make an animation that clarifies the premium feeling and different functionalities. The most important and distinguishing features of this product are its portability and water resistance. We used these features as a starting point for the concept. Take the Citation 200 with you wherever you go!
Concepting
After a short brainstorming session, the concept including storyboard was developed and tested. To create a unity in the product group, we worked out the environment for the Citation 200 in the same style as for the Citation MultiBeam 700 and Citation Oasis product videos. 
To illustrate functionalities such as the product's portability and water resistance, we chose a 3D environment in which we used both indoor and outdoor scenes. With the music, we underlined the "summery" feeling we wanted the video to convey.
Global rollout
This video is also being deployed online and offline worldwide. 
You can encounter it on physical displays with an interactive touch screen in large electronics stores, on the official Harman Kardon website, Youtube or third-party web shops. Eight translations have already been delivered for this purpose.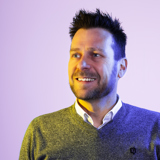 Contact
we would like to hear from you
Dimitri
Manager operations