Inspire the new with Philips T-Line
Client
Philips

Our role
Motion design
3D Animation
Concepting
Deliverable
Productvideo
Date
September 2020
When developing a new product, you want to generate sales as early as possible. That can be achieved with the right content.
Even before the launch of the new Philips T-Line, a multi-touch display especially developed for educational purposes, we created a product video based on a 3D model so the sales managers could approach their contacts as soon as possible.
A product video as a sales tool
A product video is most often created in the pre-sale phase, the moment at which the final product is not yet available, but the sales managers do want to present it to their target audience.
In this situation, it is of importance that they have a piece of content with which they can persuade their audience of the added value of the product. In a product video the most important characteristics of a product are shown: how the product works and how it would suit your company or organization.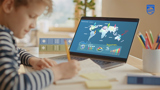 Our approach
For the Philips T-Line we chose to combine a product- and demo video.
With a voice-over script and a 3D model as the foundation, we started to formulate a script. The connection with the target group and the sales market was an essential part. That is why we chose to incorporate both the 3D model and specially designed graphics of the teaching materials into stock footage. By doing this, we create synergy throughout the whole film so that the target audience will identify itself sooner with the product and the brand.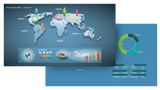 Interactivity is key
Interactivity is an important characteristic of the Philips T-Line.
With the special whiteboard mode, multiple students can interact with the board at the same time. This promotes involvement and stimulates better cooperation between students. In 3D we show how this works: either with your hands or with a specially designed display pen.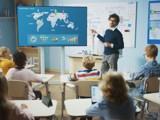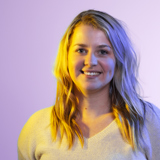 Contact
we would like to hear from you