Meet the Harman Kardon Aura Studio 3
Client
Harman Kardon

Our role
3D Animation
Motion design
Concepting
Deliverable
Productvideo
Date
September 2020
Harman Kardon produces speakers for a universal market, where each continent requires a different approach. The greater the challenge to develop a concept for a product video that appeals to all target groups.
With the Harman Kardon Aura Studio 3 it was immediately clear what it was all about: Perfect audio meets perfect design.
Visually stunning sound
Harman Kardon gave us the freedom to develop an abstract and dramatic concept for the Aura Studio 3 product video.
This was the ultimate opportunity for us to put our heads together as a team to come up with an impressive script. The Aura Studio 3 has a number of special features that we would like to highlight, such as the ripple design and the ambient lighting.
Get fully immersed
We created an abstract world in which the unique characteristics of the speaker are portrayed and provided with textual animations.
The speakers in the Aura Studio 3 deliver 360 degree sound. This effect is explained with the ripple effect, which is also reflected in the design of the speaker. We wanted to immerse the viewer in the fantasy world while they learn more about the specifications of the Aura Studio 3. That is why we chose atmospheric music with vocals to enhance the immersive character. Minor spoiler alert: at the end of the film you can see that the Aura Studio 3 is "just" standing in your living room
Synergy
The Aura Studio 3 is a unique speaker in Harman Kardon's extensive product range.
We have previously developed product videos for the Harman Kardon Fly. To create unity between the different videos, we have chosen to include specific style elements, such as the marble spheres. The result is an impressive, abstract product video that, due to the delivery in different languages, meets the needs of the target group.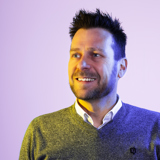 Contact
We would like to hear from you
Dimitri
Manager operations