Harman Kardon Soundsticks 4
Client
Harman Kardon

Our role
3D Product Animation
Concepting
Motion Design
Deliverable
Productvideo
Date
September 2020
The client turned out to be very happy with the result, as we were, that they asked us to develop another product video! This time the Harman Kardon Soundsticks 4 was the big hero.
Timeless, iconic design
An abstract and dramatic product video, executed in 3D so that it blends well with the other product videos that we have already realised for Harman Kardon, that was the challenge.
What makes the Soundsticks 4 special compared to the other speakers? The product consists out of two satellite speakers and a subwoofer, and the design is mainly made of glass. How cool is that? Great elements to create an exciting concept, where we address the universal market and highlight the most important characteristics.
Join forces
With an abstract 3D product video it is important to always keep the goal in mind: to promote the product visually, with text and audio.
For a product like the Harman Kardon Soundsticks 4 we combine these elements. With the ripple effect we visualize the impressive bass of the subwoofer. We reinforce the iconic design by returning elements of glass. We created a fantasy world to set the right tone, while also showing how the Soundsticks would fit your interior. With a split screen we show that the speaker system is available in both white and black.
Soundsticks 4 goes internationally
The Harman Kardon product videos show unity and with this asset our team has made the product range even more beautiful.
Harman Kardon products can be found all over the world. That's why we have also produced the product video of the Soundsticks 4 in different languages, so that they are inspired in America and China and order the product.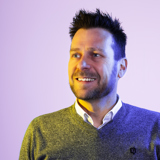 Contact
we would like to hear from you
Dimitri
Manager operations