IamFluidics positioning and rebranding
Client
IamFluidics

Our role
Strategy
Positioning
Branding
Deliverables
Website
Photography
Stationery
Business cards
Presentation templates
Brochure
Date
November 2020
IamFluidics started as a University of Twente spinoff in microfluidics and developments are moving fast, so fast that it was time for a clear strategy and a new corporate identity with a focus on different markets and target groups.
The results are reflected in the new website, stationery, business cards and presentations.
Microparticles are everywhere
IamFluidics specializes in creating and manipulating minuscule liquid droplets and has developed a revolutionary platform technology: the in-air microfluidics technology.
This makes it possible to develop high-quality microparticles on a large scale. They are used in many applications and industries, for instance personal care, life science, pharmaceutical and biomedical products.
Strategy & customer journey
Based on the goals, ambitions and knowledge from the market, we determined the brand identity and positioning during a strategic session.
IamFluidics' technology is used for different brands, each with its own market, target group and characteristics. Determining the different customer journeys was the starting point. We translated this into a new visual identity, tagline and website. We also looked at the brand architecture with which IamFluidics will address the various vertical markets.
Revolutionize microparticles
Starting such a journey from a strong strategic foundation is essential.
In the development of each communication tool you reason from the customer journey, so that your target group will feel addressed and you reach your goal. For Iamfluidics, we designed a powerful logo with a clear and recognizable logo in which microparticles play a leading role. We charged the brand with the ambitious tagline  'Revolutionize microparticles'. We implemented this in a new, clear corporate identity.
Rebranding
The new strategy and corporate identity are well reflected in the fresh, modern and user-friendly website we developed for IamFluidics.
Not only the website has had an update. The new, fresh style can also be found in the business cards, stationery, powerpoint presentations, photography and the SenSphere brochure.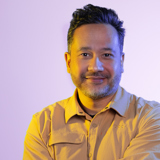 Contact
We would like to hear from you
Raymond
Strategy Director and Co-Founder