Client
Philips

Our role
3D Animation
Motion design
Graphic design
Deliverable
Productvideo
Date
Februari 2020
Last year we visited the ISE, Integrated Systems Europe, the world's largest Professional AV and System Integration exhibition. It wasn't for now reason: many of our clients and partners are at this fair and it is always a good time to talk to each other again.
Of course, we also took a look at the stands where our productions can be admired, including the Philips X-Line product film, specially developed for the X-Line video wall.
Philips X-Line: short recap
Suitable for static and moving content, ProWhite technology, 4K video wall with extremely narrow bezels: these are the unique selling points of the Philips X-Line that are relevant and form the basis of the video for both ISE 2020 visitors and online visitors.
With the Philips X-Line, you have the option to optimally organize your meeting room and make your appointments run smoothly. By building the video in 3D, it is possible to show the scalability and the different applications of the product in a short video.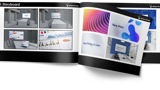 Positioning & content
The Philips X-Line is an interesting product, especially for the corporate target group.
Due to the narrow bezels and sharp contrast, it is possible to put together a video wall that allows everyone in the meeting room or auditorium to clearly see and read the content on the screen. The positioning of the product is relevant to what we show on the screen: spreadsheets, graphs and bar charts. Content that appeals to the target group and that they recognize from their daily life.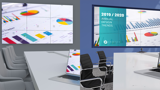 Animating in 4K
At the fair, the video was shown on a 3 x 3 X-Line video wall in 4K.
A video wall that you can also see in the video: X-Line inception! A 4K video that our motion team has set up in such a way that changes could still be made at the last minute. Ideal for when a video needs to be produced in a short period of time with a tight deadline.
Exhibitions after 2020
Developing a video for both an exhibition and online use is something we see less and less at the moment.
The need has changed. Corona provides inventiveness, as we have seen with live registrations & online business events. Nevertheless, we still like to reminisce at previous exhibitions and beautiful content as we were used to before 2020.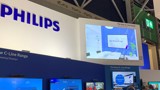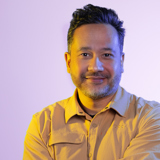 Contact
We would like to hear from you
Raymond
Strategy Director and Co-Founder