Client
Axero

Our role
Concept
Video production
Motion graphics
Deliverable
Corporate movie

Date
May 2021
Some time ago, due to an internal reorganization, Axero needed a new name and positioning. You can read how we completed this strategic process here.
After this process, Axero wanted to further sharpen its strong positioning within the automotive trade industry: this time with a corporate movie.
Getting to know Axero
Axero was looking for a smooth means of introducing the potential customer to the company. A digital business card..
Points such as: company culture, size and services were of great importance and were allowed to come forward emphatically. A film is the medium to present an extensive process and a lot of information in a clear and convenient way. Due to the efficient pre-production process, we were able to realize the corporate movie in a short time in close cooperation with Axero.
From A to Z
Based on the objectives of the video, we worked out a script that highlighted all the important parts.
We drafted a voice-over text and started looking for the right voice-over to fit Axero's character. In one day we visualized all aspects. Of course, it doesn't stop with the delivery of the video, we think about launching it on the relevant channels: on social media and through the newsletter.
Right use
A strong corporate movie only becomes truly powerful when used in the right way. In the run-up to the launch, we therefore announced the corporate movie by means of a teaser on various social channels and in the newsletter.
What did this moving content do on Axero's social media channels compared to the static posts? Check out the figures below!
The power of video
The use of video over static content had been researched several times and proved to be more effective.
By incorporating the teaser on social media and in the newsletter, we drove more visitors to the website. After posting the video, the number of visitors to that page more than doubled! 30% of visitors continued to look at Axero.nl after watching the video.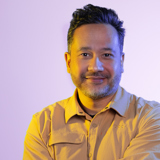 Contact
We would like to hear from you
Raymond
Strategy Director and Co-Founder