JBL Reflect Contour & Fit
Client
JBL

Our role
Concepting
3D and 2D motion graphics
Deliverable
Productvideo
Date
Augustus 2018
We were asked by JBL to make a product video for JBL Reflect Contour headphones, developed with the most fanatical athletes in mind.
After completing this project successfully, we received the go-ahead to also create a video for the JBL Reflect Fit headphones.
Concept
We were allowed complete creative freedom in creating both product videos.
We used a combination of 3D and 2D motion graphics, sound effects and music. For both videos we created a unique look and feel, fitting for the specific product.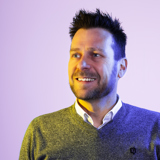 Contact
we would like to hear from you
Dimitri
Manager operations