Rebranding and a new website
Client
CS Opleidingen

Our role
Strategy
Rebranding
Website
Animation
Deliverables
Rebranding
Website
Play book
Date
April 2023
CS Opleidingen is the professional training provider of high-quality on-the-job training for registered case managers.
Work is important. For your self-esteem, social contacts, structure and income security. Therefore, at CS they teach you how to prevent people from dropping out (for a long time). And how to reintegrate them into suitable work as soon as possible if this does happen.
CS Opleidingen was in need of a fresh new website and brand redesign to match their values and vision. The wishes of CS Opleidingen? A user-friendly website and an improvement of the visibility of the courses and important information. A nice challenge for us which starts with determining the strategy.
Strategy session
What is most important in such a process? Right! Your target audience. We started with a survey with questions for stakeholders, the secretary and alumni. Here we took into account appearance, usability, core values, competitors, brand type, mission and vision.
During a strategy session that followed with CS Opleidingen on location in Arnhem, we identified the customer journey and determined archetypes. This served as the basis for the rebranding and the new website. During the customer journey session we also discussed the customer journey model, segmented the target group(s), identified characteristics, and determined the primary target group. In short, very valuable information to move forward with.
Launch campaign
It is a good idea to inform your target audience of changes within your corporate identity or brand in order for them to know how to find you (again). A launch campaign is the right way to do this. Based on the preferences of the target group, we opted for a campaign consisting out of a video, LinkedIn campaign and an email footer pointing to a landing page with all the ins and outs about the rebranding and new website of CS Opleidingen. Curious about the growth of CS Opleidingen and the path from the previous to the new logo? Check the video!
A successful result is worth celebrating
Together with CS Opleidingen, we went through a great process in which our interdisciplinary team was able to show its qualities. To celebrate the result and the pleasant cooperation, we treated ourselves to pastries!
Curious about the new website? Check it out here!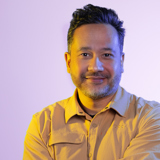 Contact
We would like to hear from you
Raymond
Strategy Director and Co-Founder