Harman Kardon Onyx Studio 7
Client
Harman Kardon

Our role
Creation
Deliverable
Script
Product video
3D stills
Date
January 2021
The biggest challenge of online video? Maintain the viewers' attention so they don't scroll on before your video is over.
For the product video of the new Harman Kardon Onyx Studio 7, we set out to find the right balance between the unveiling of the speaker and the build-up that works online. The time limit was clear: we had 45 seconds. Start the clock!
Why online video?
First, let's go back to the basics: why should a brand choose online video?
Online video has the power to create emotional attachment like TV commercials, but online it is possible to target your audience, collect data and interact. Competition is high; many brands see the Internet user as a consumer and potential customer. It is therefore extra important that your content stands out, in addition to the right targeting!
Stand out in the crowd
The Harman Kardon Onyx Studio speaker was recently launched in a seventh edition. Again with high audio quality and an iconic design.
To stand out among the other online videos, it is important to appeal to and inspire the viewer emotionally in addition to the speaker's key features. We do this by creating a unique abstract world in which the speaker is revealed and constructed, with the product name revealing the theme: Onyx (gemstone). The theme forms the building blocks for the rest of the video in which we build, reveal and link the speaker to the right features creating the right balance of technology, information and inspiring imagery.
Image vs. audio
Of course, video does not consist only of images: audio plays a key role in making the emotional connection.
Through music we connect the abstract world with the real world, where the speaker takes its place in the living room, maybe even your living room! The right balance between image and audio is of course an ongoing process. We start with an animatic where the 3D motion designer and sound designer go for the perfect match.
Finish line
And we did it! We even stayed well within the 45 seconds.
The result is an inspiring product video that gives you a look at the technology used for the speaker, lets you know why you want it and where it fits in your home. We delivered the video in English, French and German so we'll see if you see the video passing by while shopping online or scrolling through your social feed.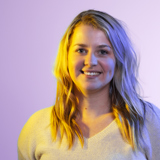 Contact
we would like to hear from you