Client
JBL

Our role
Script
Design
Video production
Deliverables
Product video
Date
September 2022
Leading the way in sustainability, the latest earbuds from JBL: Endurance Peak 3. An in-ear design made to never hurt and never fall out. The perfect workout partner when you have an active lifestyle. Wireless earbuds that can keep up with you ... let's go!
JBL asked us to create a product video for these sporty Endurance Peak 3 earbuds. A product video that highlights the functionality and design of these earbuds in a unique way. As a result, we chose to design a completely new, own style for the design. However, one that goes hand-in-hand with the JBL brand guidelines.
Design
Urban outdoors
We developed a groundbreaking style: a fresh, colorful environment with rough textures and natural objects. 'Urban outdoors' was born, the visual jacket for this entire product video.
All scenes are built from concrete blocks with simple, natural elements such as water, rocks and wooden branches. You will also see many plants, grasses and other greenery.
For each scene a color (accent) has been chosen and the lighting has been adjusted accordingly. The impression we give here is that the earplugs are always in contact with the environment in which you find yourself. And the nice thing is that the functionalities are depicted using this environment!
The font use is playful and abstract, matching the whole atmosphere and all the texts are fully integrated into the video. By showing the product in various scenes in the foreground and animating the texts behind them.
Animation style
During the briefing, we were given two key words: "playful" and "fluid. Through light and fluid movements, such as the wind blowing through the grass, we made the Endurance Peak 3 world come to life. And we didn't just reflect that in the environments, no the earbuds have been given a whole identity of their own. Not inanimate objects, but they are the playful and living centerpiece.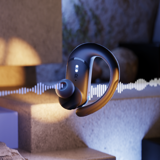 Result
The most important thing is that JBL's branding remains recognizable and that all functionalities of the product are visible and clear. This has been achieved! Either way, the result of this project is a cool and unique JBL product video. And as icing on the cake: this video is separate from all other JBL products, but fits perfectly into the overall JBL branding.
Succeeded!
Curious about a similar case? We have also realized the product video for the JBL Endurance Peak 2!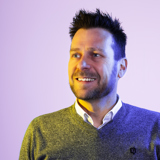 Contact
we would like to hear from you
Dimitri
Manager operations